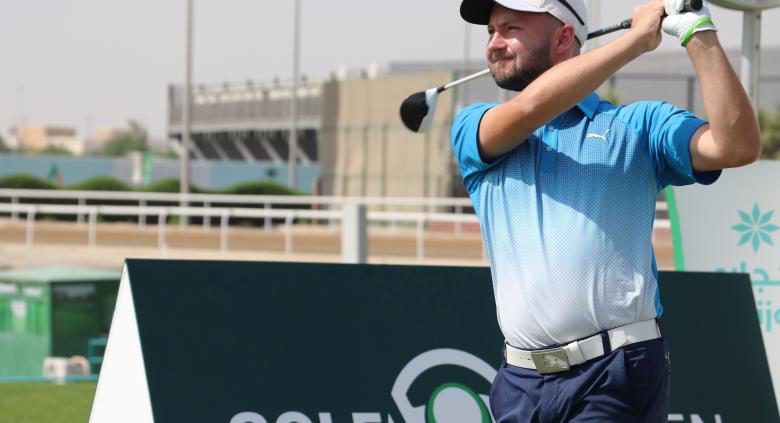 Ahmed Marjane soars with eagle in the MENA Division
KUWAIT CITY — Stuart Archibald fired a bogey-free four-under 66 to haul himself into contention for a maiden title on the MENA Golf Tour going into the final round of the Sahara Kuwait Championship on Tuesday.
The 32-year-old Englishman, starting the day two off the pace, picked two shots in each half to reach 10 under for the tournament, a good two shots clear of overnight leader Joe Heraty and Scotland's Paul Doherty.
Germany's Aaron Leitmannstetter, who returned a flawless 64, the day's low score, joined South Africa's Luke Trocado and Fernand Osther of the Netherlands for a share of fourth a further shot adrift.
"I didn't get off to best of starts, but managed to make a couple of good par saves. A birdie of the sixth, however, got me going in the right mindset. Thereafter, I played really well," said Archibald, who has been playing on the MENA Golf Tour since 2013.
"I have been in contention quite a few times and it would be nice to get the job done this time around. But we still have 18 holes to play. Anything can happen," said the Hampshire native.
Overnight leader Heraty, who shot a level-par 70, firmly stayed in the frame for his first title on the tour. "I played almost similar to the one I did in the first round, but conditions were a bit different today. "It was quite windy and the greens were a bit faster.
"Didn't hole that many putts, but I am still very happy to be in this position," said the Englishman, whose opening 62 on Monday equalled the lowest score ever shot on the MENA Golf Tour, matching that of his compatriot Joshua White in the 2014 Golf Citizen Masters in Al Ain.
Scotland's Doherty kept it clean in the second round, putting himself in prime position for a second MENA Golf Tour tile.
"Played quite nicely. Going bogey-free always makes things easier. I think I was quite consistent out there and putted really well. Holed everything from inside 15 feet which was great.
"Going forward the thinking is to stick to the same game plan and see what happens. But I do think I am in a good position entering the final round," said the Scotsman, who won the Royal D'Anfa Open in Morocco last year.
Former English cricketer Craig Kieswetter, who opened with a 68, dropped six shots in his first seven holes, but responded well with five birdies to sign for a 71. At three-under after 36 holes, he is placed second in the amateur division, two behind Brazil's Tiago Lobo and Todd Clements of England.
Lobo, a Dubai-based MENA Golf Tour regular, followed his opening 68 with a 67 while Clements mixed five birdies with two bogeys en route to 67 to share 10th overall on five under.
Morocco's Ahmed Marjan produced the shot of the day, holing his approach from 80 yards for an eagle on the par-4 first and then picked up two more shots on the back nine as he signed for a bogey-free 66.
That left him leading the MENA Division for professionals on two under 138, four clear of his compatriot Faycal Serghini and Peter Peter Badawy, who stumbled to a 77 after opening with a 65.
Saudi Arabia's Khaled Attieh carded back-to-back 70s to reach level par for the tournament, taking a one-shot lead over his fellow countryman Othman Almulla in the amateur division for the region.
The cut was made at three over 143 with 45 professionals and 10 amateurs making it to Wednesday's final round.