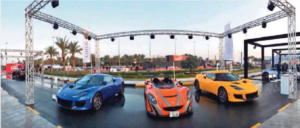 One of the most anticipated car events of the year has been Gulf Run, a premier car show that has consistently drawn in regional enthusiasm by car aficionados since its inception. This year, Gulf Run took place in Murouj, from Jan 19 to 21 2017, as a one-of-a-kind event that was comprised of three segments, including the 24hour karting endurance race, Gulf Run Bahrain, where a two-day test drive event had taken place in an inner, outer and GP circuit, and a car show in Murouj where Lotus was one of the main sponsors.
An essential component of the joy behind driving cars is the pure feeling of adrenaline that comes with being behind the wheel of an elegantly powerful ride, a sensation that is vital for thrill seekers who yearn to experience refreshingly new levels of exhilaration. That is what Lotus brought to the car show at Murouj. There, three Lotus cars were on display, including the Evora 400 and 2-Eleven. The new Lotus Evora 400 is the latest pure and focused supercar from Lotus, combining high performance with the legendary Lotus benchmark handling.
With a maximum speed of 186 mph and acceleration of 0-60 mph is just 4.1 seconds, the new Evora is a more agile and involving drive that enables it to lap the challenging test track at the Lotus Headquarters in Hethel, Norfolk at a scintillating six seconds faster than previous models. Over two thirds of the Lotus Evora 400 is new, including its supercharged and charge-cooled mid-mounted 3.5-litre V6 engine producing 400 horsepower and 410 Nm of torque. A new aluminum chassis incorporates a new interior and the lightweight composite body has changed significantly both front and rear.
The new Evora is 22 kg lighter, an accomplishment that has been achieved through careful and clever design and attention to detail. This weight reduction is even more impressive considering that the supercar has more power and a higher standard specification than before. Meanwhile, the Lotus 2Eleven that was displayed at the event, which is owned by a VIP client, takes the Chapman philosophy of 'Performance through light weight' to its most extreme level yet. Weighing in at just 670 kg or 745 kg and with 255 PS on tap courtesy of its supercharged and intercooled 1796 cc engine, the 2-Eleven boasts a power to weight ratio similar to that of a 1960s Formula One car.
Designed with the most serious of track day enthusiasts in mind, the Lotus 2-Eleven offers race car levels of performance coupled with legendary Lotus ride and handing to deliver a truly outstanding track day car. Introducing the Lotus to the Kuwait market reaffirms Alghanim Motor's commitment to providing its customers with only the best quality products, outstanding service and everything else in between. Visit Alghanim Motor's Lotus showroom at Shuwaikh Industrial 1, block 1, street 11 opposite of the Historical Vintage and Classic Cars Museum Saturday – Thursday from 9 am – 12.30 pm and 4.30 pm – 8.30 pm. Find out what's new by following us on Twitter and Instagram at @AlghanimLotusKW.